Volume 15, Issue 1 (2022)
A sincere and warm welcome to this student journal. If you have not engaged with
Obsculta
in the past, we are glad to know you are joining us. We pray that you find the works herein invigorating, thought provoking, and enriching. For those readers who have encountered previous editions of
Obsculta
, welcome back. With Christ's help, may this text serve as an introduction to the voices in our community and the work to which we commit ourselves daily. The
Obsculta
journal cannot fully encompass our diverse community; nevertheless, it aims to lift up our voices in charity and fruitful dialogue.
This year—in conjunction with the
Synod for a Synodal Church
—our contributors bring forward many creative expressions of language and faith, especially as they relate to the global Church. Our text captures the signs of the times—in particular, reflections on what it means to exist in the modern, technological world, on the continued COVID-19 pandemic, and the various ways in which Scripture has influenced our community and traditions. We are grateful to our contributors for all that they have shared with our community. We have found it truly enriching to read their works. Our hope, dear reader, is that, having listened with the ear of our heart, we may all set out for loftier summits of teaching and virtue. May we reach them under God's protection.
in omnibus glorificetur Deus.
Sincerely,
the
Obsculta
editorial team
Article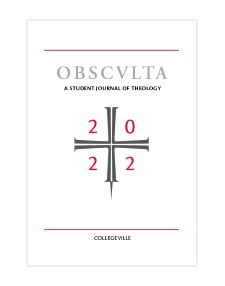 Editors
Editor

Bernie Donlon

Editor

Denys Janiga

Editor

Leah Wakefield

Editor

Amy Wen

Editor

Henry Widdicombe

A special thank you to our faculty and staff advisors:

Faculty Advisor

Shawn Colberg

Staff Advisor

Donelle Poling

Staff Librarian

David Wuolu