Studio One
is a literary and visual arts magazine published each spring by the College of Saint Benedict/Saint John's University. Its mission is to give new and established writers alike a forum in which to present their works. The magazine's focus is poetry, short fiction, essays, and all forms of reproducible visual art works.
Studio One
is student-run, and the student editors change yearly. Submissions are open to all students on either Saint John's or Saint Benedict's campuses and to the general public regardless of regional, national, or international location.
Online issues
(2012-present)
Tables of contents
of earlier issues (1976-2013)
Current Volume: Volume 43 (2018)
From the Editors
Cover Art:
Perception
Grace Gnahn
Studio One would like to give thanks to our staff advisors, Matt Callahan and Rachel Marston, along with all the faculty of the CSB/SJU English Departments, Mark Conway of the Literary Arts Institute, Greg Harren and Sentinel Printing, all our contributors, and all those who submitted their work.
Articles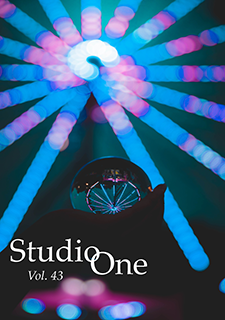 Editors
Editors-in-Chief

Lauren Berg, Mollee Girgen

Submission Editors

Jherian Mitchell-Jones, Anna Garrison, Clarice Bartek-Miller, Rachel Linhardt, Sarah Neve, Sarah Khan, Brianna Steigauf, Madyson Johnson, Emily Renteria

Layout & Design Editors

Anna Garrison, Jherian Mitchell-Jones, Lauren Berg, Mollee Girgen, Rachel Linhardt, Brianna Steigauf, Clarice Bartek-Miller