Volume 13, Issue 1 (2020)
A sincere and warm welcome to this student journal. If you have not engaged Obsculta in the past, we are glad to know that you are doing so and pray that you find the works herein invigorating, thought provoking, and enriching. For those readers who have encountered previous Obsculta editions, welcome again. With Christ's help, this little text may serve as an introduction to voices of our community with work which we commit ourselves to daily. This volume of Obsculta, like every volume, cannot circumscribe the totality of our community, yet it aims to lift up our voices with charity and fruitful dialogue.
This year, our contributors bring forward many creative expressions of language. Our text captures vivid imagery, mindful reflections, and thoughtful theological discourse. We are grateful to our contributors for all that they submitted to us. We found it truly enriching and enjoyable to read your works. Our hope for you, dear reader, is that after reflection and listening with an attentive heart, we may all set out for loftier summits of teaching and virtue, and under God's protection we may reach them.
Sincerely,
The Obsculta editorial team
Article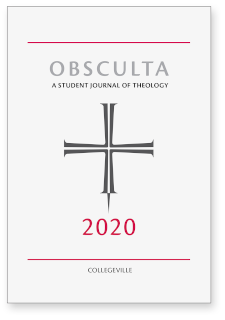 Editorial Team
Student Government Representative

Jason Horstman

Editor

Drenda Butler

Editor

Courtney Horstman

Editor

Patrick Martin

Editor

Tim Martin

Editor

Meghan Stretar

A special thank you to our faculty and staff advisors:

Faculty Advisor

Shawn Colberg

Staff Advisor

Donelle Poling

Staff Librarian

David Wuolu