Volume 12, Issue 1 (2019)
Theology asks of us not just our heads, but also our hearts and our hands. From Origen to Gutiérrez, the contemplation of the mystery of God's love has involved dialogue between academy and parish. Theology moves from the liturgy to the library, and vice versa. This dialogue has long been at the heart of Saint John's School of Theology and Seminary, and we at Obsculta offer this volume in the name of our communal commitments.
The production of this volume was a labor of love, and we have learned much from the brilliant and beautiful contributions included within. Obsculta is not only a reflection of our communal life—it also has the power to enrich and deepen that life. We would like to welcome the reader to celebrate with us the range and depth of the gifts this community enjoys, and in so doing, to grow in love for each other.
Every word in love to the Word,
The Obsculta editorial team
Article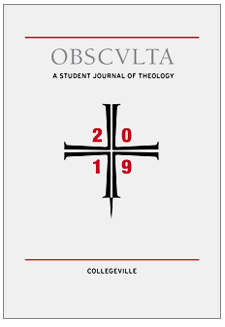 Editorial Team
Student Government Representative

Robert Craven

Editor

Caleb Kormann

Editor

Patrick Martin

Editor

Tim Martin

Editor

Meghan Stretar

A special thank you to our faculty and staff advisors:

Faculty Advisor

Shawn Colberg

Staff Advisor

Donelle Poling

Staff Librarian

David Wuolu