Volume 84, Issue 1 (2012)
The cover image depicts the cliffs where Mary Anning collected in the early 1800s. Read more about Mary Anning on page 56.
Eroding cliffs of Early Jurassic (Lias) shales, marls, and limestones, which crop out between Lyme Regis and Charmouth along Lyme Bay of southwestern England. Overlying the Jurassic sediments are younger Cretaceous deposits. The oldest rocks at Lyme Regis are the grayish-colored limestones and dark, organic-rich shales of the Blue Lias Formation, which appear as a cliff of limestone ledges, called Church Cliffs just east of Lyme Regis and wave-cut platform along the foreshore. The limestones are richly fossiliferous in ammonites. The Black Ven Marls Member of the Charmouth Mudstone Formation is extremely fossiliferous, yielding pyritized ammonites and ichthyosaur and plesiosaur skeletons. The Black Ven Marls are also prone to slumping.
Articles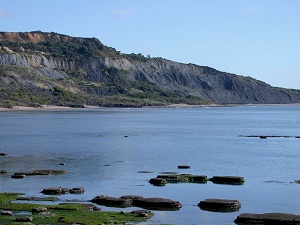 Editors
Editor

Larry E. Davis

Secretary

James C. Walters